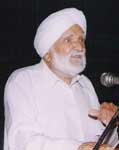 Bhagat Singh Bilga

"Ghadr Party Martyrs Memorial at Jalandhar commemorates the sacrifices made by members of the Ghadr Party and other revolutionaries for the freedom of India.
This monument, Desh Bhagat Yadghar was erected by the old Ghadrites to educate, propagate and inspire the common people to uphold the revolutionary heritage of the Ghadr Party heroes, Babbar Akalis, Kirti Kisan veterans and hundreds of Naujawan Bharat Sabha and other revolutionaries to fight for their democratic rights, ideals and social justice.
We invite you to browse this website, offer suggestions for improvement and support us to expand our functions and commitment to common peoplesí interests."
Bhagat Singh Bilga
Ex. President,
Desh Bhagat Yadgar Committee.