Desh Bhagat Yaadgar is a two-storey building incorporating a library, an exhibition hall, conferecne rooms and some residential rooms. This complex is situated on Grand Trunk Road, Jalandhar in the centre of the city. The site is spread on three acres of land which was purchased in 1955.
As Ghadr activists were released from Andaman Jail after serving life imprisonment, they decided to form 'Desh Bhagat Parivar Sahayk Committee (Patriots' Family Support Committee) aimed to look after the welfare of families of Ghadar men who were still in jail or had been incapacitated through prolonged confinement or their properties had been confiscated by the government. Baba Wasakha Singh became its chief organiser who raised much needed cash for many needy families. This Committee continued its activities till 1947 when India gained its independence.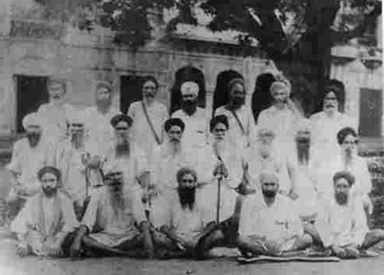 Then, Bhagat Parivar Sahayk Committee was registered under a new name of 'Desh Bhagat Yaadgar Committee' transferring its entire fund to the new organisation. Sohan Singh Bhakna, founder president of the Ghadar Party was elected President of the Desh Bhagat Yaadgar Committee.
Desh Bhagat Yaadgar Committee was concerned to preserve the memory of the Ghadar Party. For this purpose, they decided to establish a memorial for their colleagues who had laid their lives for the liberation of the country. A prime site was chosen and bought in Jalandhar in 1955. On 14th December 1957 following the death of Sant Wasakha Singh at Dadher, an appeal was made for funds for construction of building on this site. Desh Bhagat Yaadgar Committee members contributed funds with Amar Singh Sandhwan and Bhag Singh of Jai Singh Wala, Ferozepur offered magnanimously. A more wider appeal was launched on 5th January 1958. During 1958, Gurmukh Singh Lalton, Karam Singh Cheema, Bhooja Singh and Bhola Singh Cheema were deputed to collect donations from Punjabis in Britain and Canada. As sufficient funds were raised, the foundation stone for the Memorial building was laid by Amar Singh Sandhwan on 17th November, 1959.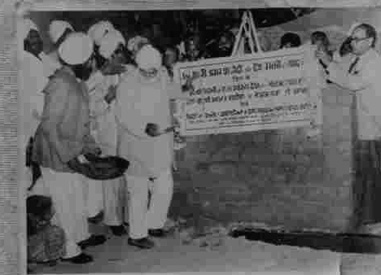 As the Memorial building stands now after several rounds of additional construction, it houses an auditorium, an exhibition hall displaying portraits of Ghadarites and other revolutionary nationalists, a library, a public hall for social gatherings, a lecture theatre for informal gatherings, some residential rooms along with the Committee office.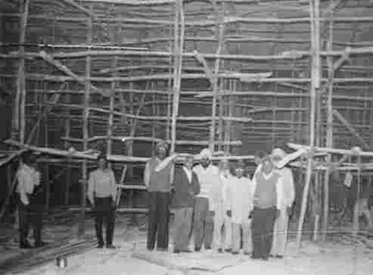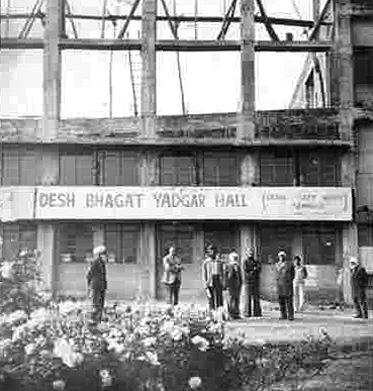 Building in progress (1959)
The founding members of Desh Bhagat Yaadgar Committee on 2nd April 1955 were as follows:

President and Trustee : Sant Wasakha Singh, son of Sardar Dayal Singh
Vice-President and Member : Baba Karam Singh Cheema, son of Sardar Gujjar Singh
Secretary and Trustee : Gurmukh Singh, son of Sardar Hoshnak Singh
Treasurer and Trustee : Amar Singh Sandhwan, son of Sardar Sher Singh
Trustees :
1) Hari Singh [Master], son of Sardar Ishar Singh Jalwant Singh, son of Sardar Nihal Singh
2) Kishan Singh Gahaur, son of Sardar Ratan Singh
3) Ujagar Singh Cheema, son of Sardar Karam Singh Cheema

Members :
1) Achhar Singh Chhina, Member of Legislative Assembly, Punjab
2) Amar Singh Mann, son of Sardar Phuman Singh
3) Bujha Singh, son of Sardar Dharam Singh
4) Dr. Bhag Singh M.A. Ph.D, son of Sardar Sunder Singh
5) Dulla Singh, son of Hazara Singh
6) Genda Singh, son of Sardar Budh Singh
7) Mehanga Singh, son of Sardar Jawala Singh
8) Sher Singh, son of Sardar Kesar Singh
9) Sohan Singh Bhakna, son of Sardar Karam Singh